▍What is a dry contact ?
▍What advantage of dry contact ?
1. There is no polarity between the two dry contacts and they can be interchanged.
2. The circuit access is easy, and the engineering efficiency is improved.
3. Can handle a large number of dry-contact type on-off quantity.
4. Isolation property allow it to damage neither the local control device nor the remote controlled device.
5. Dry contacts are widely used in communication field.
▍M412GJD Dry Contact Input Module
Omni M412GJD dry contact input module, is also a data acquisition module, belongs to the sub-module of our
intelligent lighting control system, which comes with digital input, analog input, relay output, 485 communication
and other functions. you can use it to detect mechanical switch, touch switch, temperature sensor, humidity transducer,
automatic curtain motor , intelligent rolling curtain motor, infrared detector and so on .

>>Four Reasons Why You Should Consider Our Dry Contact Input Module

1. Powerful Chip
A powerful chip is the basic guarantee of the stable operation of the whole control system. The communication
port of our dry contact input module is equipped with the most advanced isolation chip.Powerful chips can not
only provide efficient processing power, but also easily and quickly respond to your business needs.
2. Photoelectric Isolation
There are many transient pulses in the industrial application environment, which will affect the data transmission
and even harm the interconnected equipment. In order to obtain error-free data transmission in the fieldbus
communication, we adopt photoelectric isolation to deal with these disturbances. Because photoelectric isolation
has the following advantages.
(1) Signal transmission is in the the form of electric-photo-electric in the whole signal transmission system. In this
form, the feedback and interference between the output and the input can be avoided .

(2) Strong ability to suppress noise interference.
(3) Durability, high reliability and fast speed.
3. Safe and Durable
Safety and durability refers to the product in the long-term application process under the dual factors of circuit
and environment is less affected or destroyed . This not only reflects the lifespan of the product from the side,
but also ensures the durability of the product. The more safe and durable, the longer the service life of the product.
4. Industrial Control

When it comes to industrial control,many people will think of two major roles of industrial control, that is
to improve efficiency and control costs. Our dry contact input module is no exception in this respect.
Snap-on installation of standard DIN guideway
The interface of this multi-channel dry contact input module is a standard DIN rail interface. DIN is the German industrial

standard. The use of guide rail is a way of installation of industrial electrical components. Installing eletronic component,
which support this standard can be easily clamped onto the guide rail without screws,maintenance friendly.The commonly
used guide rail width is 35mm. our dry contact input module is to adopt snap-on installation of 35mm standard DIN guideway.
3 indicators on the module
We configure 3 indicators on the module, through which you can roughly know the status of this network input and output module.
-red indicator
red nidicator blinking stands for the module is working properly.
-green indicator
green indicator is a 485 communication indicator. This indicator light is usually in the off state,When the module receives the
instruction transmitted through the 485 protocol, this indicator light will flash once.
-blue indicator
blue indicator is a pairing indicator. It blinks slowly when users enter the pairing ID mode. when users exit the pairing mode ,
it will quickly blinks three times, and then turns off. What is ID pairing? ID pairing refers to the pairing of the control module
and the mobile APP. The module series numbers can be redacted according to users liking.
>>Dry contact Input Module-where will it be used ?
Dry contact input/output module is one of our control module series products. The product has a very wide applications
in smart home industry and industrial control industry. The signal input channel on the module can accept dry-contact-type
trigger signal. Common ones are the signals from curtain motor, temperature and humidity sensor, switch panel, infrared
detector etc,.These devices are used in conjunction with dry contact input modules,truly realize the intelligence,convenience
and efficiency of industrial control.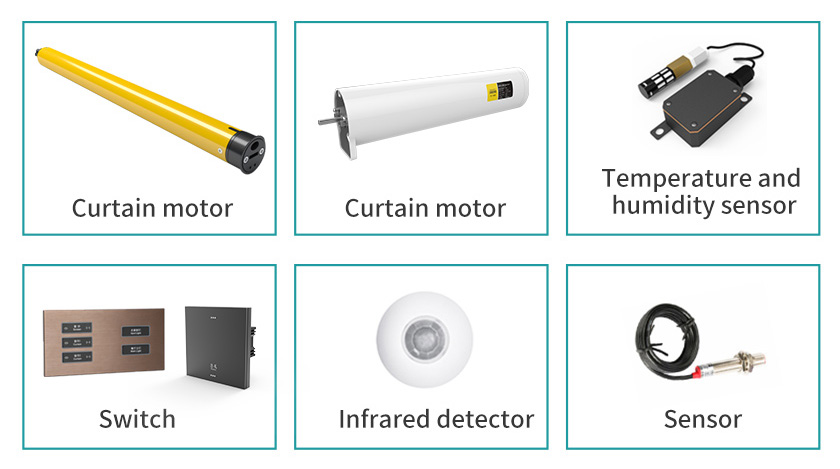 case 1- dry contact input module in conjunction with curtain tubular motor
The basic working principle of the system is the curtain tubular motor outputing passive dry contact on-off signal
or some fault alarm signal. the user check the state of the curtain motor and control the curtain motor start/stop
operation through the background management system .

case 2- dry contact input module in conjunction with quiet curtain motor
If the output of your automated curtain motor is a dry-contact type, motor access system needs to be equipped
with a 485 protocol dry contact conversion equipment. The 485 dry contact intelligent module will act as a conversion
module in the system. The dry contact here is a passive contact point that controls the motor , mainly output on and off
two kinds of signals.

case 3- dry contact input module in conjunction with temperature & humidity sensor
With the further development of industry, people have higher and higher requirements for the production environment.
Not only in the traditional pharmaceutical and food industries, papermaking, medical, tobacco and other industries also
began to put the temperature and humidity requirements of production environment into production specifications.
Different from wiring difficulties,multiple analog conversion module requirement traditional temperature & humidity
measurement-control system, new network multipoint temperature & humidity measurement-control system can be
built by only taking one PLC communication module, cooperating to use Omni RS485 dry contact input module, and
then connecting the modbus-type temperature & humidity sensors. A measurement-control system like this is more
cost-effective

case 4- dry contact input module in conjunction with smart switch panel
smart switch panel generally integrates the intelligent control of circuit on-off for various household appliances and luminaires.
Connecting dry contact signal module is conducive to collect the on-off quantity signal and control the output of switch signal
after judging by configuration software,thus to further improve the desired control precision and energy saving requirements.

case 5- dry contact input module in conjunction with infrared detector
Because the infrared energy of human body is different from the environment, when people pass through the detection area,
the infrared detector senses the change of energy and provide feedback signals to the system. The dry-contact infrared detector
needs to be combined with intelligent acquisition module to realize channel opening of signal feedback and command control.

▍related product

NO.1 quiet automatic curtain motor
The quiet automatic curtain motor for realizing open & close curtain smartly,remotely control, free your hands.

it mainly for top-down and bottom-up curtains ,window blinds ,black-out shades and roller blinds automation.

NO.3 temperature and humidity sensor
to detect temperature and humidity in a certain range of space.

NO.4 smart switch panel
apply to household equipment control like lighting,curtain, socket, air conditioner or other smart switch joint-custom panel.
▍Common FAQs about dry contact input module
1. What is a dry contact input module ?
2. The setup guide
3. How to install
4. What is the differnece between dry contact and wet contact?
5. What you can do with dry contact input module ?
6. Difference between dry contact input module and data acquisition module?